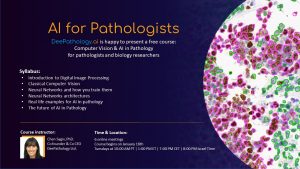 We would like to thank all of our more than 250 participants who have joined this year's "AI for Pathologists" courses so far. You made learning about computational pathology, deep learning, neural networks and their pathology applications a fantastic experience for everyone!
Did you enjoy the course and were inspired to move on with AI-powered digital pathology? Get in touch with us to see where we can help and collaborate!
If you missed a session or want to re-watch to deepen your understanding, you can do that free of charge via the links provided below.
Details about the next international course (AI for Pathologists Course – Asia Edition) taking place in the second half of 2022 will be available later this year.
Until then, happy training to all humans and algorithms out there!
US Edition (January/February 2022)
Europe Edition (March/April 2022)